What keeps you going beyond vanity metrics?
I frequently get asked "what are you training for?", "when's your next competition?" or sometimes simply, "what are your training goals?" and so on.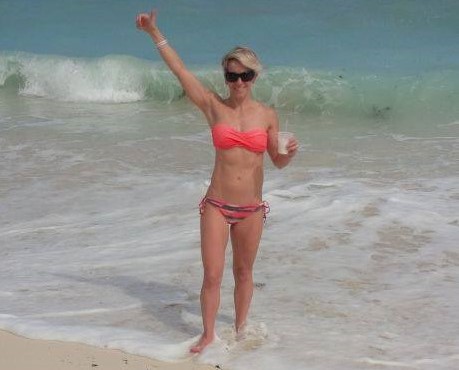 Here it is: I'm going to let you all know why I do what I do and what motivates me!
It's my job. I believe in walking the talk…I practice what I preach. I want to be a walking billboard for health and fitness. But that doesn't just mean looking a certain way. My philosophy is simple, if I'm going to look "fit", I better be "fit". That means if someone wants me to run 10K, I can run it (with a decent time). If someone wants me to do a pull up, you bet your ass I can. And if you want me to sprint you better believe I can do that too. This has been my passion for more than 16 years and I want people to know with some hard work, dedication, persistence, and maybe a little bit of sweat and tears; a healthy, fit body is possible.
I want to redefine what 40 looks (ok… a little vain) and feels like. Remember when you thought 40 was 'old' or 'over the hill'? Not anymore…age is just a number and my goal is to prove that. As 40 quickly approaches (less than 3 months away), I am in the best shape of my life. Not only am I playing a competitive sport with people half my age (and keeping up with them), I can jump higher, run faster, and lift heavier than 20 years ago!  All of this has helped me to remain injury (especially in a sport know for serious knee injuries) and pain free.
I want to inspire. I want people to be shocked when they hear my age.  If my goal is to redefine 40 than I'd like a 20-something-year-old to say "I want to be her at 40, how do I do that?". I also want a 30-something to believe that they too can be in their best possible shape at 40.  As Zig Ziglar said "You don't have to be great to start, but you have to start to be great". I also want to be an inspiration to those that struggle or have struggled with an eating disorder. As a recovering anorexic, I want people to know that with proper help and guidance you can have good health, balance, and happiness.
I want to conquer my "later" years with as much strength and grace that I can. I truly believe in having a good quality of life. My hope is that the 16 plus years I've put in so far are going to help prevent or slow down the natural degeneration process. I want to have as much muscle mass as I can (we lose approx. 7lbs per decade after the age of 30) in order to keep my metabolism going, maintain my bone density (I don't want to get any shorter), and still keep my aerobic capacity.  Of course, genetics will play a BIG factor in this as heart disease, high cholesterol, and high blood pressure run on both sides of my family, as well as osteoporosis on my mom's side.  My fists are up and I'm ready for a fight!
Lastly, it keeps my head on straight. I use my workouts to relieve stress and anxiety, clear my head and think (sometimes about new ways to torture motivate my clients)… and yes, conquer inner demons.  The endorphin's released help keep me sane, positive, and full of energy.
Although vanity might be what gets you started on your journey to a healthier lifestyle, it will by no means, be the reason you keep going. What will happen when you lose the weight, or fit in that size 4, or you have a 6 pack? Or when your goal is to lose weight and it doesn't happen overnight (like we think/want it to)? Will you give up? What's going to motivate you once you've achieved your goals or your not seeing the results you want? Or ask yourself if these "goals" are what will make you truly happy?
Take some time to think "beyond vanity" and find your true inspiration.
Please feel free to share your thoughts, I'd love to know what motivates you.