Welcome to Trainerize.me! It's the world's first online personal trainer platform that allows people to find and connect with the perfect online personal trainer, and helps fitness and nutrition professionals reach more clients and tap into a new revenue stream with online training and meal plans.
If you are looking for a personal trainer, you are in the right place. If you are a personal trainer and looking to get listed on our platform, you are also in the right place!
Why Trainerize.me?
As part of Trainerize's mission, we're committed to improving people's health and provide more affordable options when it comes to training with a fitness professional.
As technology advances, there are more and more ways for people to stay fit–with access to fitness apps, on-demand fitness videos, and trackers–but there is still a disconnect. Consumers have so many choices, but no professional guidance in choosing what's right for them.
Many people might want to get fit and even workout, but they might not know how, or they can't afford a full-time personal trainer for guidance. The solution is simple: a personal trainer that offers more affordable training plans online through the Trainerize mobile app.
At the same time, personal trainers are always looking for new clients, and find that sales and marketing can be difficult.
So we created a bridge with Trainerize.me. Consumers can not only get access to an online trainer anytime, anywhere, but they can find the right trainer for them–one in the right location, who specializes in the area of fitness they're looking for. And trainers get more direct access to the people that are looking for professional fitness advice.
What do you get as a Client of a Trainerize Trainer?
Visitors to Trainerize.me can search out specific trainers by location or by specific training services, and then complete research on the trainers by visiting their social profiles or website to get a feel for how they train. Once they've found the perfect trainer, all they have to do is message them right from the page to connect, and the trainer can add them to Trainerize.
Trainerize is a mobile app that helps you keep in touch with your personal trainer. A Trainerize trainer can deliver workouts, motivation, meal planning and more, all through the mobile app! As a client, you can share your fitness and nutrition data through apps like Fitbit and MyFitnessPal, so the trainer can provide tailored fitness guidance specifically for YOU to hit your fitness goals.
What benefits do you receive as a Trainerize Trainer?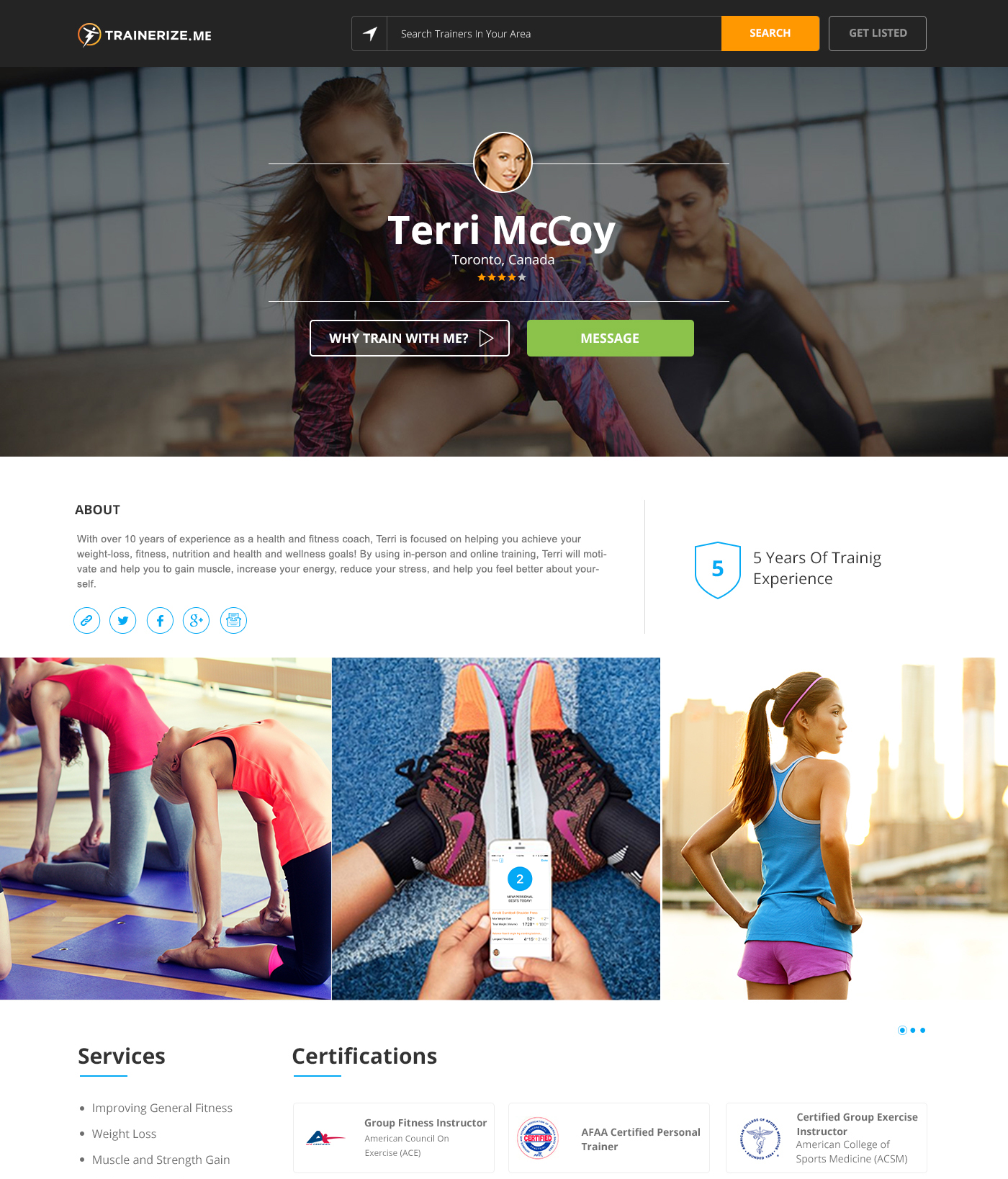 The Trainerize.me profile is included with all paid Trainerize accounts. With a Trainerize account, you get:
A public listing on Trainerize.me to promote your training services with photos, video, and a description of you, your training services, and any fitness certifications you hold.
The ability to establish yourself as a thought leader by submitting articles to the Trainerize.me blog.
Easy access to consumers looking for a personal trainer. All they have to do is message you, and we make sure it lands in your inbox in Trainerize!
Company pages for gyms and studios with multiple trainers. All trainer profiles link back to the company page.
Multiple business locations for trainers on a Studio Account. The company page will show all locations and their contact information, opening hours, as well as trainers assigned to that specific location.
Plus: you get everything that you normally would with a Trainerize account, like your own website and mobile app for you and your clients to log into, where you can share workouts, meal plans, and provide motivation for your clients.
Trainerize.me profiles are searchable on the Trainerize.me website, but they will also be visible in online search results, and will connect trainers to people around the world who are looking for a trainer online. (Writing articles will help make your profile become more discoverable in search engine results, too!)
Try it out for yourself:
Whether you are a personal trainer trying to get exposure and discover more clients, or you are just an average person looking to find that ideal trainer to help you hit your fitness goals, Trainerize.me has what you're looking for.