It's Monday morning and your headed to the gym. Like Groundhog's Day, National Chest Day, continues to repeat itself over and over. Why men are so fascinated by chest is right there with the world's toughest riddles. While for most missing a gym day is no big deal, it's just understood you don't miss chest day. You just don't.
By far Monday is the gym's biggest day, in terms of members showing up, and then it drops slowly each succeeding day, right through Sunday.
Then, it's National Chest Day, again!
Well, given its " National Chest Day ", I have been spending time writing, performing and ultimately publishing, some workouts. That's right, I've created a little gift for you – a new workout, actually two workouts. No, not chest.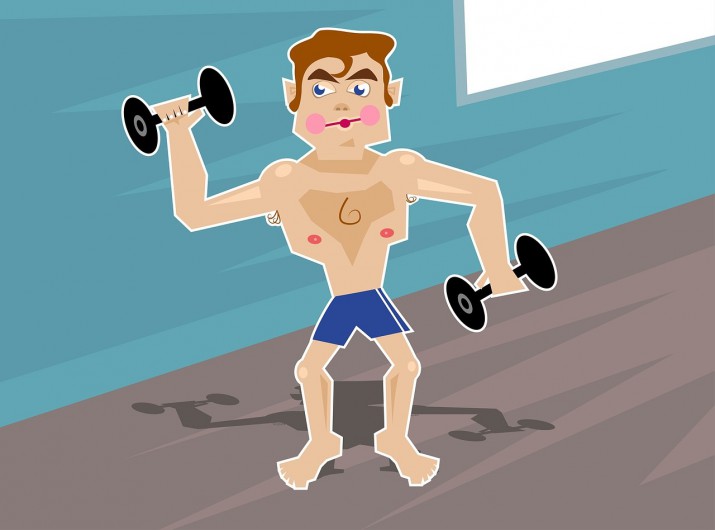 Take the mirror test and attack the weak spots detected. If you're a guy and have been training 6 months or six years, I guarantee you it's not chest. Get over it, and look below your waist. See those two long things with a nice pair of Nike's at the bottom. Let me introduce you: these are your legs! I know they seem to be mismatched with your upper body.
At the extreme some guys begin to look a bit like a rooster – that is a big puffy chest, and legs with the girth of a new born calf.
Well, cowboy that is not the way you ride!
If you have been training for over a year consistently, I have a message for you – stop. It's time to get under that squat bar and release some serious testosterone. And let me just say: one day is not good enough. The leg 360 and leg 500 are meant to be performed within the same week.
The 360 is considered a heavy day and the 500 a light day. If you're just getting started, just follow the exercise and it's given rep count, but for starters limit yourself to two sets. Every week or two depending on results add another set.
Please safety first
If you haven't had a physical by a physician in the last 12 months, pick up that smartphone and get it done. Remember, the two leg routines below (360 and 500) are advanced workouts. Once you pound through the leg section don't quit, you still have shoulders and abs to go.
Well, that's enough reading for now, off you go. And, this Monday and probably Thursday, do whatever it takes to beat that primordial drive to pound your chest, and instead put some weight on that back and squat baby, squat.
WEIGHT
REPS/SETS
VOLUME
Back Squat
100% BW/140%/175%/140%/100%
10 x 5
50
Front Squat
50% BW/70%/90%/70%/50%
10 X 5
50
DB Alternate Lunges
20% BW/30%/40%/30%/20%
10 x 5
50
Deadlifts +
50% BW/70%/90%/70%/50%
10 x 5
50
Leg Press +

Leg Ext

Plate machine failure at 10 reps

Plate machine failure at 10 reps

10 x 5

10 x 5

50

50

Calf Raises
½ BW on barbell on back
20 x 3
60
Volume
360
| | | | |
| --- | --- | --- | --- |
| | WEIGHT | REPS/SETS | VOLUME |
| Back Squat | Full BW on Bar | 10 x 10 | 100 |
| Front Squat | ½ /BW on Bar | 10 x 10 | 100 |
| Alternate Lunges BB | ½ /BW on Bar | 5 x 20 | 100 |
| Deadlifts | ½ /BW on Bar | 5 x 20 | 100 |
| DB Step-ups | 20% of BW | 5 x 20 | 100 |
| | | | |
| Leg Volume | | | 500 |
| | | | |