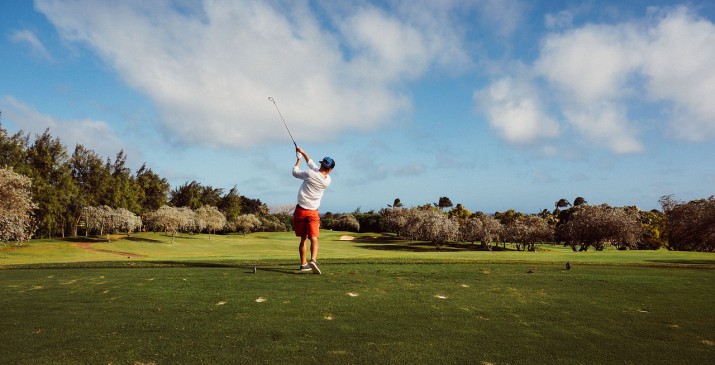 Golf, although not thought of a strenuous activity, requires a higher level of fitness than most people would think. In a single round, a golfer will swing an estimated average of 300 swings (including practice swings) and walk seven to eight thousand yards, the equivalent of four to five miles. Swinging a club over and over again twists the neck, back, shoulders and arms unnaturally, the physical stress loads become substantial. Overall fitness and endurance play a critical role in the game. Stronger, fitter, more flexible athletes hit a ball further and straighter, have better touch around the greens and respond better under pressure in the closing holes than do their weaker counterparts.
The term "the wheels are falling off" usually comes mid-round when you start to lose focus and your muscles start to fatigue. One way to alleviate this syndrome, is to work on increasing your endurance or stamina. The definition of endurance is the capacity of something to last or to withstand wear and tear.
Aerobic exercise also known as endurance exercise or 'cardio'- is when oxygenated blood is pumped by the heart to muscles in the body.
The term aerobic actually means "with oxygen," which means that breathing controls the amount of oxygen that can make it to the muscles to help them burn fuel and move. The more you increase your aerobic capacity, the more endurance and stamina you will have on the golf course.
The American Heart Association recommends that everyone reach a minimum of 30 minutes of some form of cardiovascular exercise 5 to 7 days per week.
 Cardiovascular Benefits:
Aerobic exercise conditions the heart and lungs by increasing the oxygen available to the body and by enabling the heart to use oxygen more efficiently.
Additional Benefits of Aerobic Exercise:
Control of body fat: Aerobic exercise in conjunction with strength training and a proper diet will reduce body fat.
Increased resistance to fatigue and extra energy
Toned muscles and increased lean body mass
Decreased tension and aid in sleeping
Increased general stamina
Psychological benefits: Exercise improves mood, reduces depression and anxiety.
Keep excess pounds at bay: Combined with a healthy diet, aerobic exercise helps you lose weight — and keep it off.
Increase your stamina: Aerobic exercise may make you tired in the short term. But over the long term, you'll enjoy increased stamina and reduced fatigue.
Ward off viral illnesses:Aerobic exercise activates your immune system. This leaves you less susceptible to minor viral illnesses, such as colds and flu.
Reduce health risks:Aerobic exercise reduces the risk of many conditions, including obesity, heart disease, high blood pressure, type 2 diabetes, stroke and certain types of cancer. Weight-bearing aerobic exercises, such as walking, reduce the risk of osteoporosis.
Manage chronic conditions: Aerobic exercise helps lower high blood pressure and control blood sugar. If you've had a heart attack, aerobic exercise helps prevent subsequent attacks.
Strengthen your heart: A stronger heart doesn't need to beat as fast. A stronger heart also pumps blood more efficiently, which improves blood flow to all parts of your body.
Keep your arteries clear: Aerobic exercise boosts your high-density lipoprotein (HDL), or "good," cholesterol and lowers your low-density lipoprotein (LDL), or "bad," cholesterol. The potential result? Less buildup of plaques in your arteries.
Boost your mood: Aerobic exercise can ease the gloominess of depression, reduce the tension associated with anxiety and promote relaxation.
Stay active and independent, as you get older: Aerobic exercise keeps your muscles strong, which can help you maintain mobility as you get older. Aerobic exercise also keeps your mind sharp. At least 30 minutes of aerobic exercise three days a week seems to reduce cognitive decline in older adults.
Live longer: People who participate in regular aerobic exercise appear to live longer than those who don't exercise regularly.
Karen Palacios-Jansen, 2008 LPGA National Teacher of the Year, has been voted as one of America's "Top 50 Best Women Teachers" by Golf Digest magazine for the past 20 years. For more information visit Cardiogolf.com.