Finding the right online health & fitness coach can be difficult. Here's a checklist for success!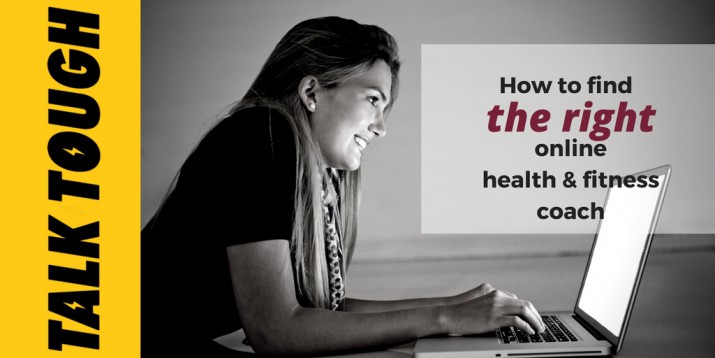 Let's face it: learning how to get fit and properly nourish ourselves can be downright confusing.
We are constantly bombarded with conflicting messages on the "right" way to diet and exercise. Technology has been a help and a hindrance to success: on one hand, it has allowed for fantastic growth in coaching and options for coaches to connect with their clients outside of the gym; with so much information available, it's more convenient than ever to get fit without committing to in-person training sessions. On the other hand, there are so many options for which approach to take that finding the right program or coach can be overwhelming. Starting any health and fitness journey alone can be even more of a challenge.
How to Find the Right Online Health & Fitness Coach
Working with a personal trainer or wellness coach can be a great way to instantly build accountability into your quest to look and feel your best. I've simplified the task of finding the right fitness coach by creating a checklist of what to look for in a reputable, certified professional. Read on for a few of my top tips to keep on hand during the consultation process.
The right fitness coach will be aligned with your specific goals
This seems pretty straightforward… you wouldn't want to hire a bodybuilding coach if your ultimate goal was to run a marathon. However, finding the right coach beyond surface-level goal setting might take a bit of investigation. Some points of reflection may include:
Does the coach use methods that are manageable for your lifestyle and schedule?
Do they focus on the particular area of fitness or nutrition that you're looking to grow in?
Do they adjust their workout plans based on activities you enjoy, or do their programs seem like sheer torture?
There are a staggering number of coaches and systems out there…asking the right questions when reading about different coaching methods and going through an initial consult can help you find someone who is completely on the same page with your goals and preferences.
The right coach will have the right credentials
There is a rather unfortunate phenomenon happening at the moment where people looking to get fit will see a physique they admire on Instagram and decide to hire that person to train them… without checking their credentials first. This can lead to liability issues, injury, improper training protocol, and results that aren't sustainable long-term. If you've decided to hire an online trainer, make sure your coach is a Certified Personal Trainer through an accredited organization such as NASM, ACE, ISSA, NSCA, or ACSM. Many of these organizations also offer nutritional coaching certifications, which you will want to make sure your coach has obtained before taking any nutritional advice from them. And remember that most certified health and fitness coaches are not equipped to provide medical therapy through nutrition – that's best referred to a Registered Dietitian or your physician. Making sure your coach has the right education and tools will ensure a greater likelihood of your success over the long-term.
Steer clear of cookie-cutter meal plans
The right coach will understand that nutrition is dynamic and complex. Therefore, cookie-cutter meal plans that eliminate food groups and offer quick results are often an unsustainable strategy for long-term dieting. Imagine being told to only eat fish and broccoli six times per day for eight weeks. Aside from sounding like an unbearable meal plan, what happens when those eight weeks are over? What are you supposed to eat to keep off those quick 10 pounds you just shed, and how do you begin to rebuild your depleted micronutrients that you missed out on by eating the same foods over and over? The right diet plan should be educational in nature and set up healthy eating habits for life. Nutrition coaches who approach diet plans as lifelong solutions know that real change takes time and is best approached through education, encouragement, and small changes to daily habits. Unless you have extremely specific short-term goals such as getting ready for a photoshoot or physique contest, if you are handed an overly restrictive meal plan and promised quick results, run (…don't walk…run!!) to another qualified fitness coach who cares about the quality of your health long after you've finished working with them.
Ensure your plan is primed for growth
Becoming an online-trained athlete is a unique challenge, as it's up to you and your coach to make adjustments to your program based on your own self-monitoring during workouts and giving adequate feedback. However, the benefits of training online far outweigh limitations such as not having access to a gym, being pressed for time, and being bound to a certain number of sessions per week. The right online fitness plan will be periodized, which is just a fancy training term for something that's scalable and buildable over time. Your fitness plan should become more challenging as you progress through each session and build strength and/or endurance. Certified personal trainers understand methods for periodization programs that help you avoid injury and plateaus. Properly built programs also encourage rest and avoid overtraining, which can sabotage your hard-earned results! The right fitness coach will also recognize when a program is too challenging and needs to be scaled back. Having a coach in your corner as an extra set of eyes and ears can often give you much-needed perspective on your results and effort that you wouldn't have if you were trying to navigate the gym on your own.
Make sure the lines of communication are open
Ok, so you've found a fitness coach who has proper credentials, keeps your overall health at top of mind, and can provide a stellar program unique to your goals. Great! Unfortunately, all of that won't matter if they can't properly communicate with you. Online coaching is unique in that it heavily relies on coach-athlete written and verbal communication more so than in-person training; questions like "am I performing this exercise properly?", "can I skip my cardio session today?" and "should I feel pain in my knee while I'm lunging?" take on an entirely different context when your coach isn't physically in the room with you. When consulting with a prospective coach, ask what you can expect in terms of communication – they should have a clearly outlined plan of how often you'll be speaking, what kind of after-hours or differing time zone access you'll have, which medium (in-app, email, text, phone, skype etc.) will be exclusively used to communicate, and how often you will have official progress meetings. Setting these expectations up front will hold both of you accountable and encourage a positive working relationship. If a coach emails you a program update once a month and otherwise abandons you, it might be time to look elsewhere. And remember, communication is a two-way street…your fitness coach won't know what kind of adjustments to make to your program if you don't offer quality feedback!
Now that you're armed with a thorough checklist of what to look for in a prospective online health coach, it's time to find the right one for you! If you don't know where to find an online health coach, many personal training organizations such as ACE and NASM have searchable databases, and sites such as Trainerize.me and Precision Nutrition can be a great resource as well.  There's no better day than today to start your health and fitness journey, and it will be even easier for you to achieve your goals with a positive, encouraging coach cheering you on.