I feel like I'm supposed to write some sort of philosophical, mic-drop kind of thing here with this blog. I don't know why, no one has given me that pressure, but I feel like that's the pressure we put on ourselves in this social media world. I may not have anything too remarkable to say, so I'm just going to tell you my story about how I found MY inner strength and when I realized my purpose was to help others find their "strength".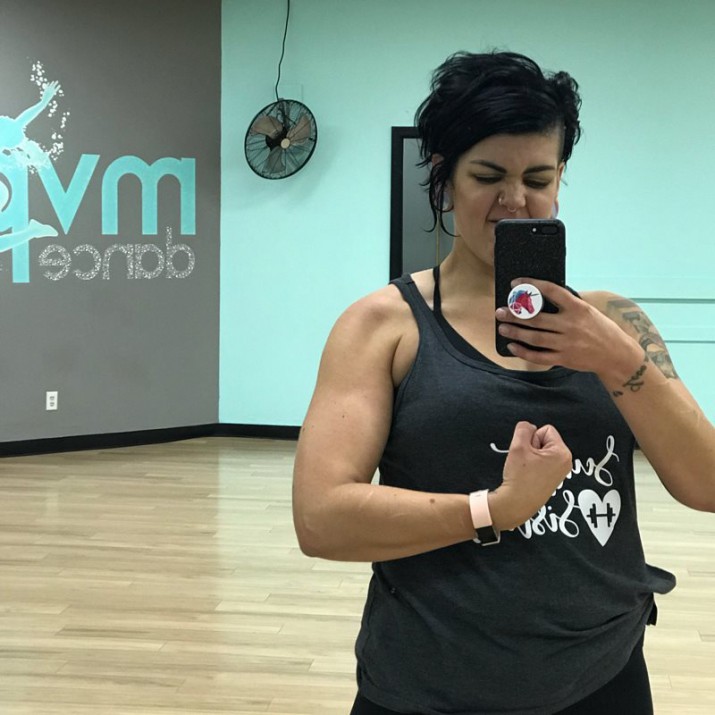 I was never and will never be a small, petite, or naturally thin woman
As a child and teenager I never liked the fact that my shoulders were broad, my rib cage too, and that my hips seemed to match my wide upper half. Now as an "adult" I can appreciate that wide shoulders can stack on big muscle, and wide hips make carrying heavy baby boys just a bit more natural.
Find YOUR Inner Strength
I didn't play sports, I wasn't an athlete. As a child I was a dancer; ballet, tap, kick line, modern, pointe-dancing was my heart and soul until part of my literal heart and soul was taken from me in one very confusing instant. This isn't a sob story (remember it's how I found my inner strength) so I'll save you the details and put it as frank as possible: my dad went to prison for 8 years and is now a registered sex offender. I had no clue about anything and was as dumbfounded as anyone could be when I heard the news. From that moment forward, at age 16, my life [obviously] changed forever. I began living what some call a "fast life"- sex, drugs, and rock and roll, baby… I was forced into adulthood at one of the most crucial and formative times in a young woman's life and was doing it without a positive male influence.
I quit dancing. I stopped going to school every day (I graduated though!). I moved out. I was partying and drinking and living a life no 16 year old had the right to be living. I spiraled so low until I hit rock bottom and attempted suicide. By the grace of whatever god you believe in I am here to say I only attempted and didn't succeed. I wish I could say that was my great wake up call, but sadly, it was not. I didn't get my great call until many years later.
Fast forward to age 22. I am pregnant, single, and managing a local chain restaurant. I spent so many nights alone just talking to my belly, learning things about me and life and the future that I had never once imagined were even possible. For the first time in my life I thought about my future and was excited for there to be one!
My son Aeson was born in 2010, and I believe in my whole heart that HE is my soul mate! His birth gave me the opportunity to learn about unconditional love and my sweet baby boy taught me to love myself. That was it.
I didn't love myself. I didn't even know I didn't love myself! But, someone who does love themselves would have NEVER treated themselves the way I had been for the last 6 years. At that time I became guarded; I would only do what was right and best for my baby and me. I lost the party-party friends, but found new ones who I learned were REAL friends.
Gosh I thought this wasn't going to be a sob story so I'm going to jump ahead to the fitness part… one night I saw an old friend at work and when we stood side by side for a photo I finally saw that I had really put on some weight! I did have a baby, but bless, he was approaching a year old and I was still gaining what I thought was baby-weight! I rushed home from work, put on running shoes and went out for a run in the dark, in the rain. If you know me, you know how ridiculous that sounds because I am pretty vocal about my disdain for running! But that rainy Monday evening once again changed my life forever.
It was like the universe aligned and in that moment my purpose was being shown to me. Just by chance that same day before I left work, I was given a free 30-day membership to a gym as part of a coupon book for local businesses. The very next day I went and signed up and my goal was to use every single day of that free 30 days. And I did.
I was not an exerciser. Dancing in my youth was my sport, but I didn't train outside of the studio. I didn't know my way around a weight room, so I stuck with the elliptical and machines and did what I thought was right. I was sweating, I was feeling good, I was getting results. 30 days turned into a 3 year membership and soon I was making the time before work every day to get up and get into the gym!
My schedule changed around a bit and I found myself hitting the gym late-night, literally 10:30-11pm. One night as I'm slaving away on the elliptical, 10 or 15 women file in the gym around 10:45pm. They were dressed in these awesome crazy neon clothes and headed into the group fitness studio. They looked so fabulous and happy, and then the music started. They looked like rockstars. I know I was staring. The music made me move faster and suddenly even my own boring workout became a bit more exciting.
I guess I was having a really great time, or maybe the staring did it, but once one song ended the instructor paused the music and came over to me. Veronica Lopez. I asked her, "What in the world is THIS?!" She replied, "ZUMBA®️!! Can you rub your belly and pat your head?"[rubs my belly and pats my head]…. "YES!" And once again my life changed forever. Zumba®️. I started to live, eat, breathe Zumba®️. I was taking two classes a day and fell in love. I was dancing again!! And, I happened to be getting in shape!
It was suggested I become an instructor, so I did! And wouldn't you know it, the very first class I ever taught happened to be the same very first class I ever took! Veronica moved away and asked me to to teach in her absence. I was shocked! Honored! Overjoyed! My career as a professional in the fitness industry began.
Before long I was getting seriously awesome results and people started asking me for help. I never thought about being a personal trainer, but I soon I found myself enrolled in a home study personal training program. I wasn't doing well with the discipline of home study and wasn't happy still working at the restaurant, so I took one GIANT step further and enrolled myself in college. At age 25 I started school and went to college for the first time. In 18 months I finished my degree in exercise science and am so proud to say I graduated with honors in May of 2015.
Somewhere along the line, Rachel Vickhouse reached out to me through my son's father and asked me to come teach Zumba®️ at her new studio that was opening soon. We exchanged messages, but never met until the day of the grand opening. I attended the grand opening, and once again, my life changed forever!
I have literally been with our MVP family since day one and have experienced so much growth since that day I went blindly into this new venture. MVP has become an environment like none other and has provided for me the opportunity to grow as a trainer and as an individual. I have been allowed the freedoms to experiment and put my education to use through different fitness classes and within the Training Center.
My (our) clients are the most remarkable people, and all of them enter our doors bringing with them nothing but love and support. Each one of them comes to our studio for different reasons; some to lose weight, some to build muscle, some for heart health, some for social reasons, and I could go on. We all have different values, beliefs, economic and educational backgrounds, but when we're together we are all united as one.
These women, and our token guys Tony and Ted, have helped me discover and define my purpose. I am here to help you find YOUR strength. I have been BEYOND blessed to have found my strength through fitness, and now I know that I am here to help YOU find YOUR strength through physical activity and movement, and through leading a healthier lifestyle. Our strengths are all different, but we all have it within us.
Mentally, emotionally, physically – together we will find YOUR inner strength.