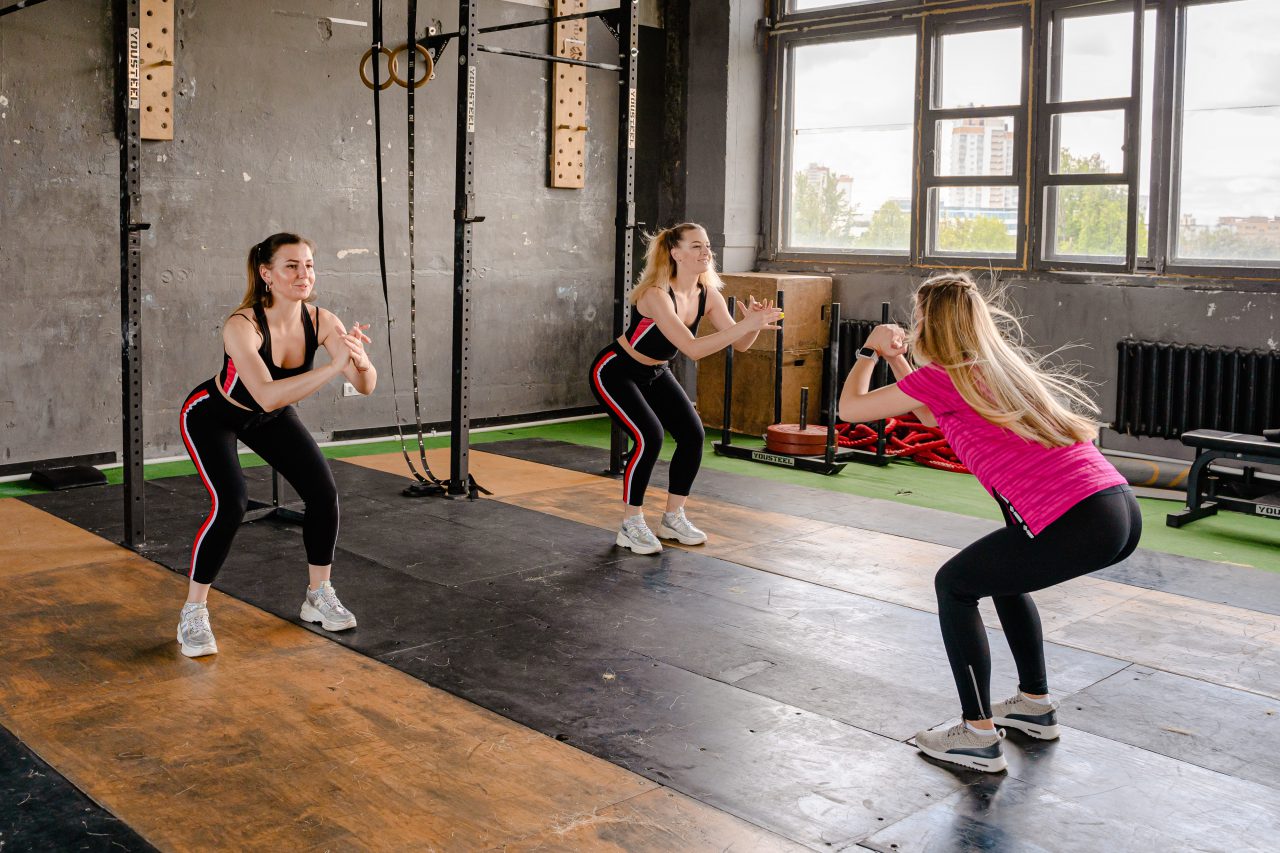 Whether you are just starting out on your health and wellness journey or getting back into the swing of things after a long lay off, you might be wondering where you should start.
I always encourage people to ease their way back into the gym and to recognize that the most important aspect of developing an exercise routine, in the beginning, is simply being consistent with showing up for workouts.
If you start out too fast, the likelihood of you missing workouts due to excessive soreness, fatigue, or waning motivation is much higher.
There are seven primary types of movements that you should prioritize in the gym. Of course, there are other types of movements we should do in partnership with these movement patterns, but these seven are the foundation of everything we do in the weight room.

Squat Pattern:
Body weight squat, Goblet Squat, Barbell Box Squat, Barbell Squat
Hinge:
Kettlebell Deadlift, Dumbbell RDL, Single Leg RDL, Hex Bar Deadlift, Traditional/Sumo Deadlift
Lunge:
Bodyweight Split Squat, DB Split Squat, Bulgarian Split Squat, Barbell Split Squat
Horizontal Push:
Machine Bench Press, DB Incline Bench Press, DB Flat Bench Press, Bench Press
Horizontal Pull:
Chest Supported Row, DB One Arm Row, DB Bent Over Row, Barbell Bent Over Row
Vertical Push:
Sit DB Shoulder Press, Stand DB Shoulder Press, BB Strict Press, BB Push Press
Vertical Pull:
Lat Pulldown, Assisted Pull/Chin Up, Unassisted Pull/Chin Up, Weighted Pull/Chin Up

You might be stronger or more advanced in some of these movement patterns than others. That is normal. Learn to recognize what movement patterns you are most capable at and continue to grow those while trying to improve your movements that might be lagging slightly behind.
Some of the movements we'll discuss in the next section you might never do because they don't match your fitness level, injury history, or you just might not enjoy the exercise progression. That is totally fine!
The movement PATTERN is what we are after, not the specific exercise. Find one or two exercises in each category and focus on becoming really really good at them.

How to Progress the Squat Pattern: 20 Week Approach
I'm going to assume you know it is important to squat in some fashion if you are going to workout, but that doesn't mean you HAVE to do one type of squat.
There are many options and as training equipment continues to develop our options to squat also continue to multiply. I am not including any "speciality" equipment in these lists, so this is a barebones approach to progressing your squat pattern when returning to the gym.

If you are brand new to exercise or have never trained consistently before, I'd recommend spending your first two to three sessions using bodyweight squats. Week one do two to three sets of 10 repetitions.
Analyze how you feel in the next few days and then reassess. Were you so sore that you couldn't sit on the toilet? Stick with bodyweight squats until that is no longer the case. Were you minimally sore and left the gym feeling like you could handle more? Progress to goblet squats for 3 sets of 10.

Once you progress to goblet squats, spend several weeks (4-6) building your strength in this movement. Each week you get 3 sets of 10, increase weight by 5 pounds the following week. Ideally in the 6 weeks you spend goblet squatting, you'll increase from a 15 or 20 pound dumbbell to a 45 or 50 pound dumbbell for sets of 10.
Progress is not always linear, so depending on your fitness level the amount of weight you increase will vary. Thankfully you'll have what we like to call "noobie gains" on your side!

So now that you've worked your way up to some respectable weight in goblet squats and you're 8 weeks into the gym routine, you've probably gained some confidence, your appearance has started to shift, and with it your mindset is shifting also.
So what is next? Barbell Box Squats would be my recommendation or you could keep running goblet squats if that exercise is doing the trick for you. There is no need to do any specific type of squat. But the next progression if you want to switch up your movement would be a barbell box squat.

I recommend taking the same approach with your barbell box squats as your goblet squats.
Stick to them for at least 4 to 6 weeks before making any changes. You probably don't know how much weight you can use at this time and I don't recommend jumping right into finding your 1 repetition maximum (RM), so just take the first couple of weeks to find an appropriate weight based on your strength level and comfortability.
Perform 3-5 sets of 6-8 reps at around 65%-75% of your estimated 1 RM. All this means is you're doing 65-75% of a weight you could only do once. So if you think your 1 RM is 200 pounds you'd use 130-150 pounds for sets of 6-8 reps. Start with 65% the first week, master the technique, get comfortable, and as you become more confident in the movement you can start to increase weight by 10 pounds each week.
Again the benefits of being "new" is you don't have to take your sets to exhaustion in order to make progress. You can leave a few reps in the tank each set and you'll still continue to see progress as long as you maintain your consistency.
So now you are 12-14 weeks into training, what's next?
That will depend on where your goals are now. Certainly, after 12-14 week of focused and consistent training, you are no longer the same person you were when you started. You want more! You have options!
Continue with box squatting, find your 1 or 3 RM and continue to try increasing your numbers or you can progress to a barbell back squat. If you continue with box squats, I recommend running another 4-6 week phase and doing a 5X5 at around 80-85% of your 1 RM. This will be a bit heavier and require flawless technique and adequate rest in between your sets.
If strength gains is your primary goal at this point, that is what I'd recommend. If you're just looking to stay healthy, then I'd continue to use less than 80% of your 1 RM and stick with 3-4 sets of 6-10 repetitions, but still increase weight week to week if possible.

If barbell back squats intrigue you, then I would recommend the same approach we took with box squats. Start by finding what weight you'd like to use and work on technique for the first two weeks. Once you start to get comfortable with the weight on your back, then start to increase weight by 5-10 pounds from week to week. 3-4 sets of 6-8 reps at around 65-75% of your 1RM will work for this phase. Once you finish this phase you'll be 16-20 weeks into your journey. Admire how far you've come, stay focused, and keep working!

Squat Progression Option #1
Week 1-2: Body Weight Squats for 3 sets of 10 Repetitions
Week 3-8: Dumbbell Goblet Squats for 3 sets of 10, increasing weight each week
Week 9-14: Barbell Box Squats: 3-5 sets of 6-8: Technique first, increase weight second
Week 15-20: Barbell Back Squats: 3-5 sets of 6-8: Technique first, increase weight second

Squat Progression Option #2
Week 1-2: Body Weight Squats for 3 sets of 10 Repetitions
Week 3-8: Dumbbell Goblet Squats for 3 sets of 10, increasing weight each week
Week 9-12: Dumbbell Goblet Squats: 4 sets of 6-8: Increasing weight each week
Week 12-20: Barbell Box Squats: 3-5 sets of 6-8 Reps: Technique First, increase weight second

Squat Progression #3
Week 1-2: Body Weight Squats for 3 sets of 10 Repetitions
Week 3-7: Dumbbell Goblet Squats for 3 sets of 10, increasing weight each week
Week 8-12 Barbell Box Squats: 3-5 sets of 6-8 Reps: Technique First, increase weight second
Week 13-16: Barbell Box Squats: 5 sets of 5: Increase weight each week
Week 17-20: Barbell Back Squats: 3-5 sets of 6-8: Technique first, increase weight second