Well, big congratulations!
Whether you've been trying for a long time, conceived naturally, or have been down an assisted conception route this time right now is yours. The first trimester is from 0-12 weeks and comes along with nausea, sickness, fatigue, and a whole heap of excitement. The great thing about the next nine months is the boosted motivation you have: healthy mum, healthy baby. 
Here I will discuss the how, when, and why of exercise during the first trimester of pregnancy.
** Important note: Before beginning any exercise whilst pregnant consult with your Dr and/or midwife.

 

You must stop exercising and seek medical attention if any of the following occur; bleeding, painful contractions/cramps, difficulty breathing, dizziness, headache, chest pain, calf pain/swelling.
According to the American College of Obstetricians and Gynaecologists, women with uncomplicated pregnancies are encouraged to engage in aerobic and strength-conditioning exercises before, during, and after pregnancy. They also provide the guideline of 30 minutes of moderate exercise per day or 150 minutes of exercise per week.
Common First Trimester Obstacles
Exercise during early pregnancy is perfectly safe for most, however, the reality of that can be quite different than imagined.  Whilst you might expect to feel on top of the world because you're growing another tiny human, the body's response causes the exact opposite.
During the first trimester, around week 5-6, hormones change as hCg rises, the placenta is growing and blood volume significantly increases.  These changes cause symptoms of:
Dizziness

Rapid heart rate

The feeling of not being able to breathe deeply

Low on energy

Nauseous (all day!)

Tired
If you know, you know. That first trimester hits hard. The naps and staying hydrated helps a lot.  And whilst exercise may be the last thing on your mind (especially if you're also looking after a toddler!) doing an amount will help to energize you.
Types of Exercise Best Suited to the First Trimester
A mixture of strength and cardiovascular exercise suits this trimester, and the remaining pregnancy. It's important to train the body in a variety of ways in order to facilitate balance, strength, CV fitness, and, most importantly for pregnancy, reduce the risk of injury.
By performing a wide variety of exercise options your body and mind will reap the many benefits of exercise. In the first trimester I focus on functional movements doing the training in minimal time. By doing so you remain life ready (lifting work bags or toddlers). By keeping the workouts shorter during the first trimester we facilitate better energy management, since being low on energy is one of the highest reasons for exercise non-compliance during this trimester. You can check out Bumps & Fitness for workouts specifically designed for you in this first trimester.
Note:
Avoid any contact sport or sport whereby you'll be exposed to impact such as hockey, netball, sky diving, climbing, scuba diving, etc.
A Look at First Trimester Programming
Here's a snippet from inside the Bumps & Fitness program on Trainerize: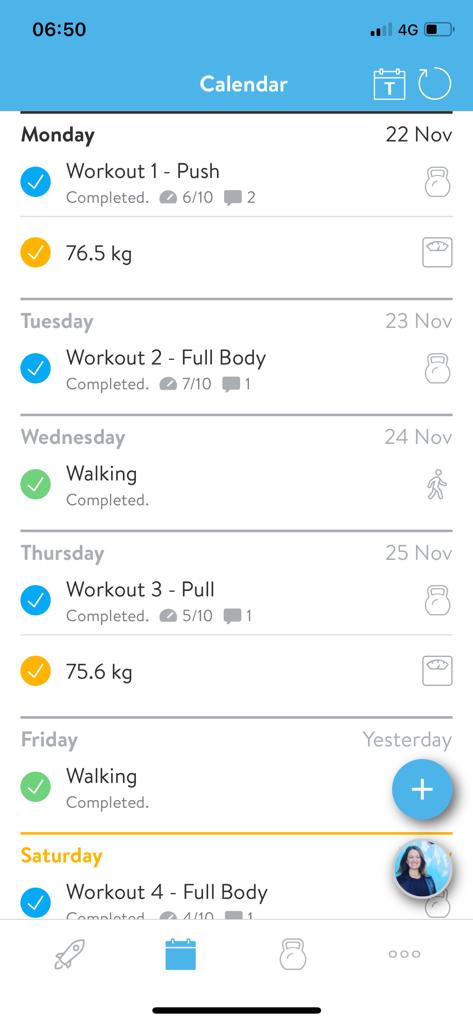 FullSizeRender
Summary
Women who exercised regularly during pregnancy reduce their risk of developing gestational diabetes by 50% and reduce their risk of developing pre-eclampsia by almost 40%. Additionally, even moderate exercise reduced the risk of gestational diabetes by 30%. (Di Paolo et al., 2019). Exercising during pregnancy can also improve general fitness and recovery during the post-partum period. (ACOG 2019)
Pregnancy is an exciting time in every women's life, and it is an excellent time for Mom to focus on herself before the baby arrives. Not only does getting regular exercise benefit Mom's health physically, but endorphins released during pregnancy can also help boost Mom's mood and reduce stress.
There are so many physical changes with pregnancy it can be intimidating to figure out where to start. As long you have been medically cleared by your doctor, you can continue your current exercise regimen during the first trimester.
References
Artal, R. (2003). Guidelines of the American College of Obstetricians and Gynecologists for exercise during pregnancy and the postpartum period. British Journal of Sports Medicine, 37(1), 6–12. https://doi.org/10.1136/bjsm.37.1.6
Exercise During Pregnancy. ACOG. (2019). https://www.acog.org/womens-health/faqs/exercise-during-pregnancy.
Davenport, M. (n.d.). Impact of prenatal exercise on neonatal and childhood outcomes: a systematic review and meta-analysis. https://bjsm.bmj.com/content/52/21/1386.
Juhl, M., Kogevinas, M., Andersen, P. K., Andersen, A.-M. N., & Olsen, J. (2010). Is Swimming During Pregnancy a Safe Exercise? Epidemiology, 21(2), 253–258. https://doi.org/10.1097/ede.0b013e3181cb6267
Paolo, J. D., Montpetit-Huynh, S., & Vopni, K. (2019). Pregnancy fitness. Human Kinetics.
Szumilewicz, A., & Santos-Rocha, R. (2019). Exercise Selection and Adaptations During Pregnancy. Exercise and Sporting Activity During Pregnancy, 231–308. https://doi.org/10.1007/978-3-319-91032-1_9