What equipment is right for your space?
It can be challenging to set up an effective home workout area, particularly when space is a constraint and with the overwhelming variety of home gym equipment out there. Below, I cover the key things to consider when purchasing fitness equipment and set out some of the benefits of particular items. Ultimately, even with minimal space and equipment, it's possible to have an effective home workout setup without compromising your fitness goals!
First, you should always consider four things when buying home gym equipment:  (1) space available, (2) budget, (3) portability and (4) will I use this a month from now? Invest in something which you can store easily and you can picture yourself actually using. Remember that no matter how expensive, no piece of equipment builds muscle if you don't use it consistently
Next, find something that appeals to how you like to move. Do you like to lift heavy things or prefer stretching and running? You're more likely to use equipment that is more suitable to your movement patterns. Versatility is also key – equipment that can be used in different ways allow you to vary your workouts, even if it's just changing the tempo and rep count. Finally, always make sure you check your gym equipment is safe and functioning properly before dusting it off the shelf and diving into a workout!
Let's take a look at some pieces of equipment in more detail. The items below are listed in order of essentiality from my perspective, but you're free to pick and choose depending on whatever will allow you to move better and move often!
Water Bottle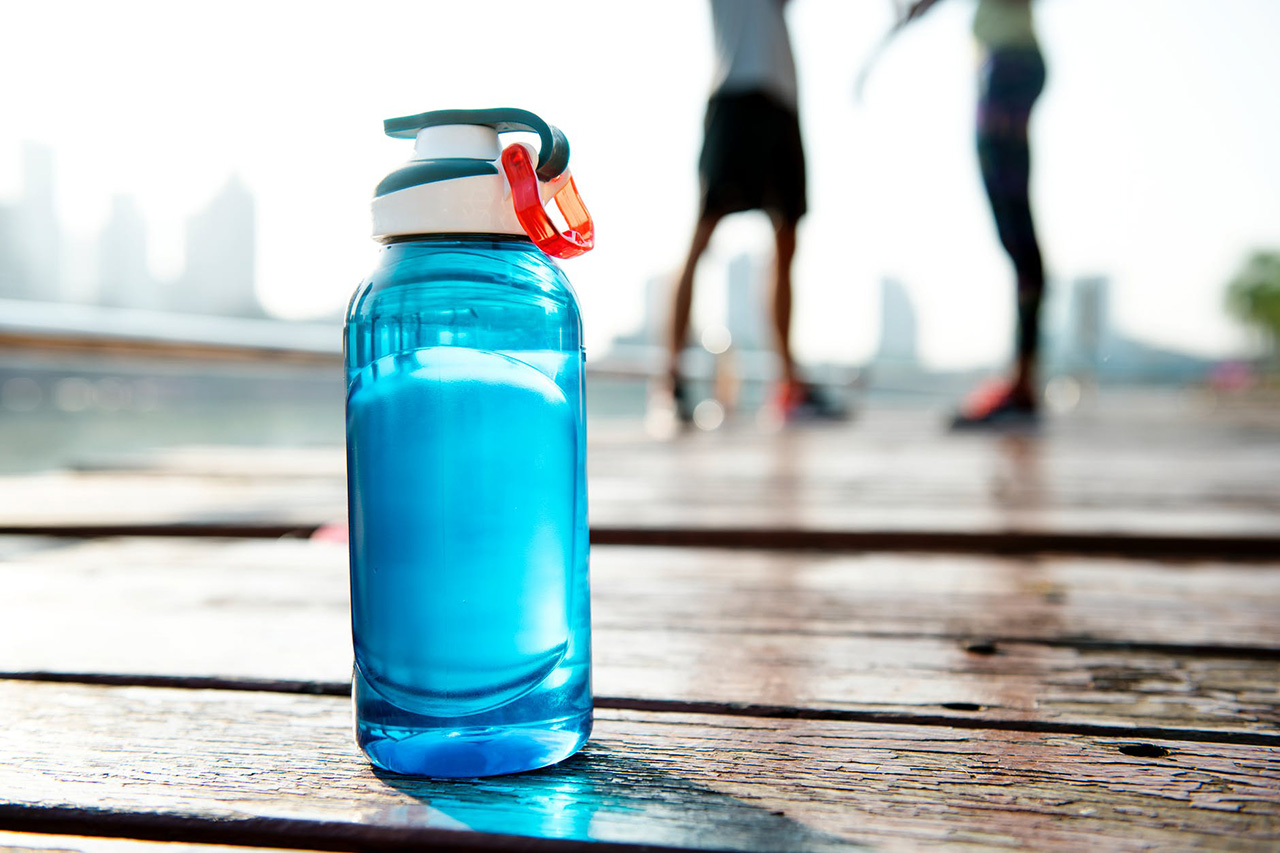 Trainers want you to sweat, which means you'll need to stay hydrated. The fewer distractions the better, so I encourage you to have a water source ready to drink. You can have a glass of water or a trusty water bottle but stay focused and hydrated with water ready to drink. There is rarely a time to rest during a home workout because you need to keep the heart rate up. Find a bottle that you like, keep it clean and keep it nearby!
Gym Mat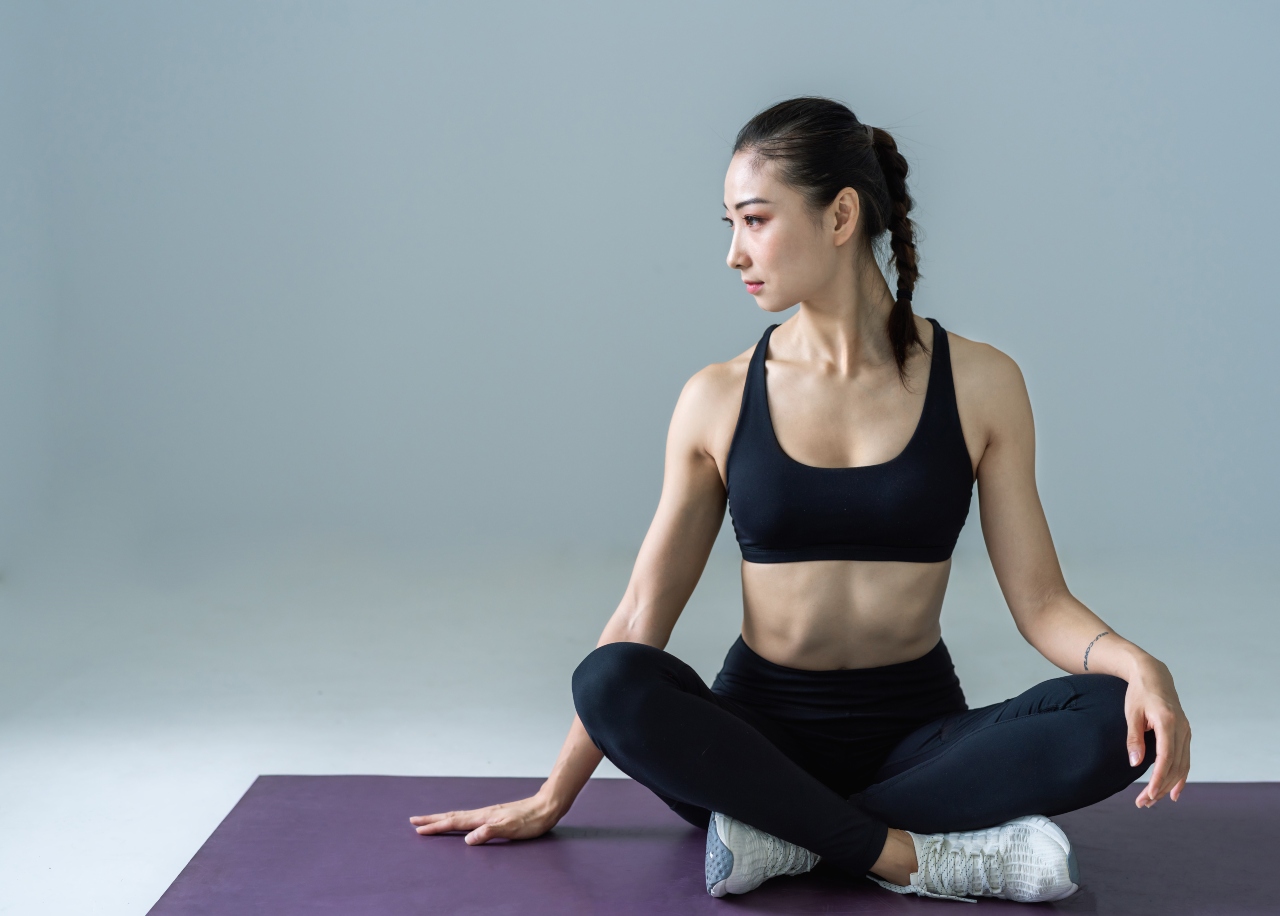 This essential item not only catches your sweat but holds you in place while you stabilize and stretch your body. It also helps sets the parameters of your exercise space, because if you don't have enough space to lay out a mat, you likely need more space for your exercise routine. Adding comfort and safety when contacting the floor, a gym mat is a staple for any home-based workout.
Mobility Ball / Foam Roller / Massage Gun

This type of fitness equipment is focused on helping with tissue restrictions. As a functional movement specialist, these items are high on my list as they allow you to move better. Mobility balls are cheap and portable, but do require time and coaching to get into various positions correctly. Foam rollers, particularly vibrating ones, work well to address tissue restrictions, but the cost tends to increase with product quality. My mobility tool of choice is the Theragun, a percussive therapy device that is a game-changer with regards to speed, effectiveness, and portability – but you do pay for that convenience. I highly recommend at least one piece of mobility equipment, based on what is right for your budget.
Swiss Ball or Exercise Ball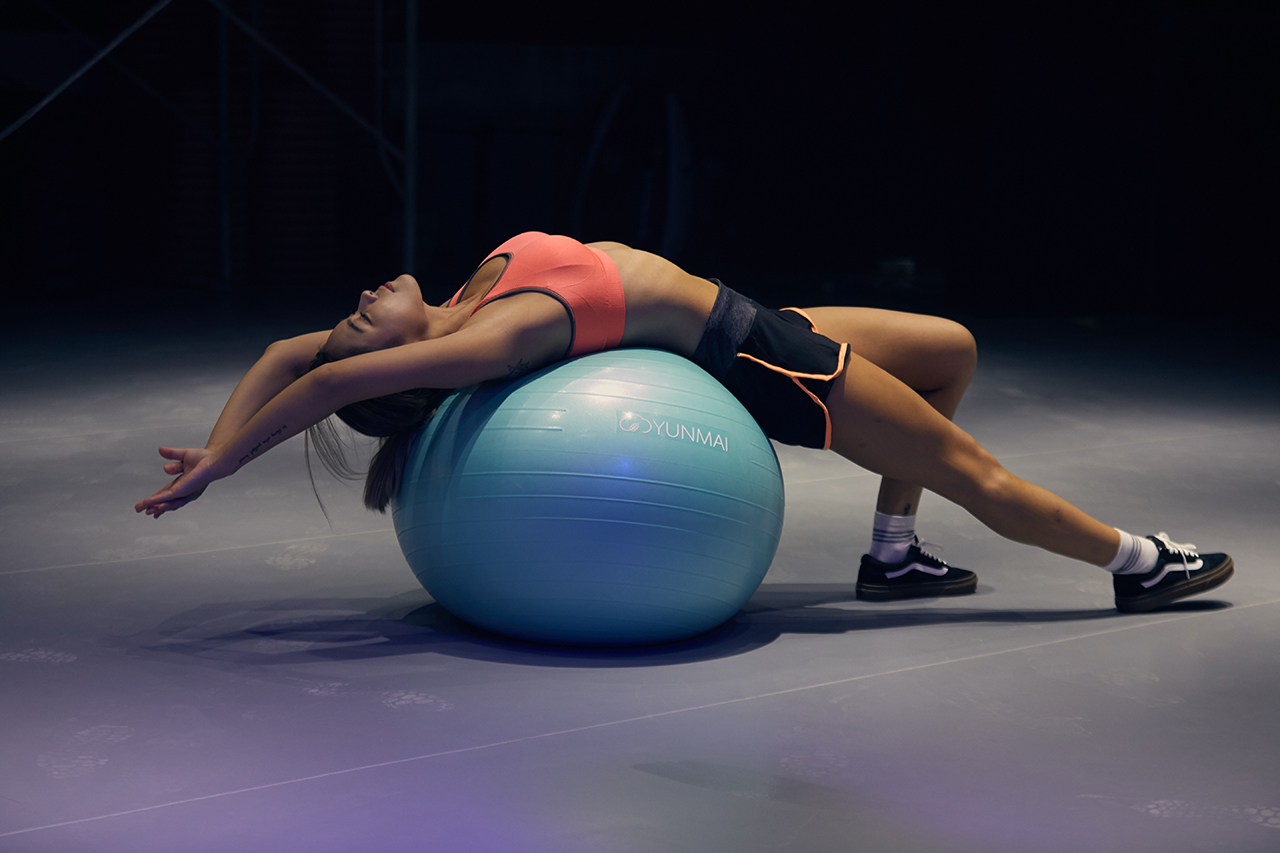 You can sit on them or lay on them, but always make sure they are inflated! The variety of exercises available on a Swiss Ball are extensive. It is a great piece of equipment for developing core, shoulder and hip stability while staying in place. It's also an excellent space saver as it doubles as a moveable chair for your home office setup. Swiss balls come in various sizes, so I recommend finding one that allows you to sit comfortably with your knees level to your hips.
Resistance Bands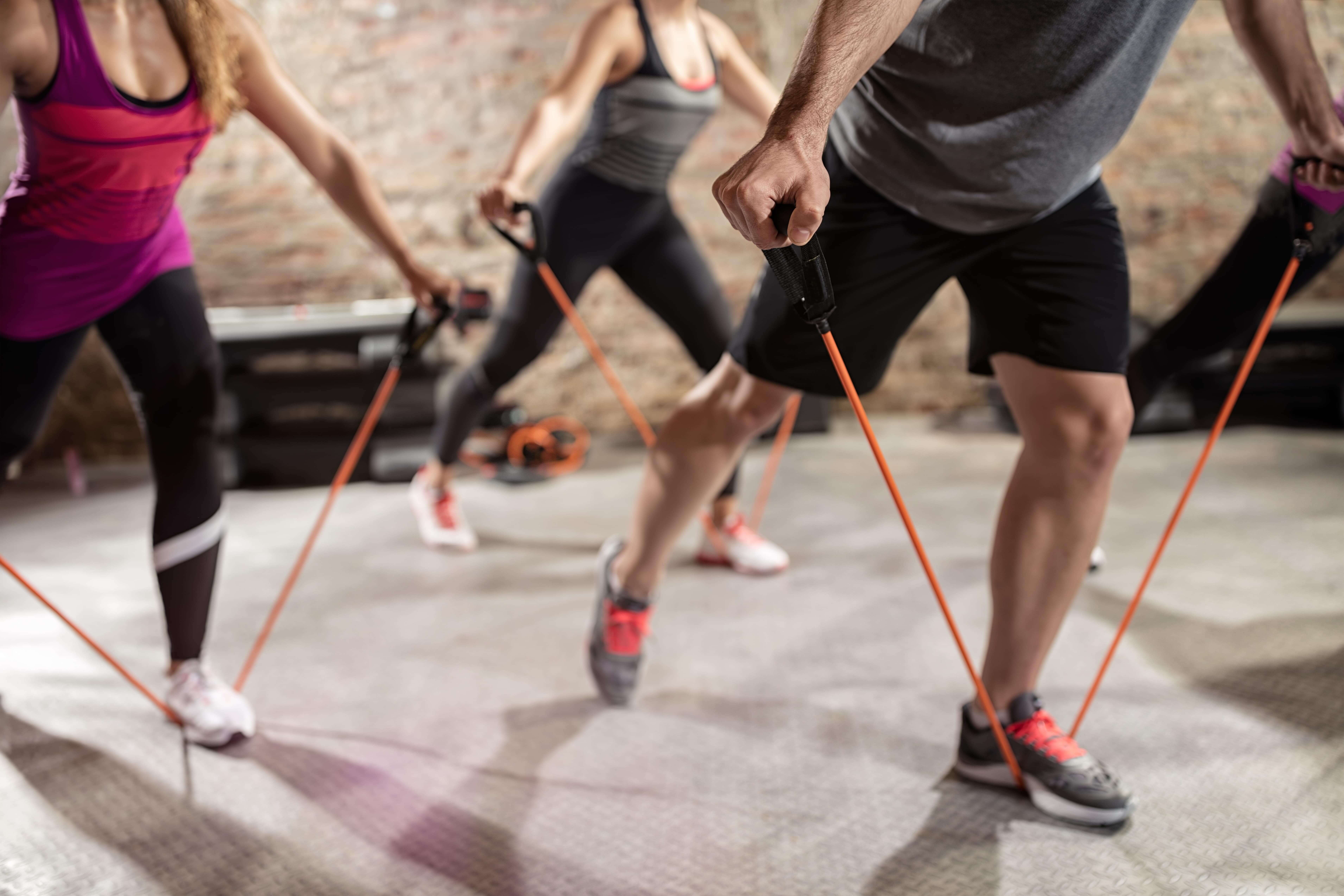 Resistance bands are portable, cheap and easy to use. They are really useful in tight quarters, and can be taken anywhere you need to get your workout in. They allow you to perform a lot of different primal pull movements you may have difficulty doing without equipment. Having a couple of band variations of intensity and length is helpful. The looped ones are excellent but you can get ones with handles too if you don't like gripping the band itself. I highly recommend resistance bands for people with minimal space at home.
Barbells / Dumbbells / Squat Rack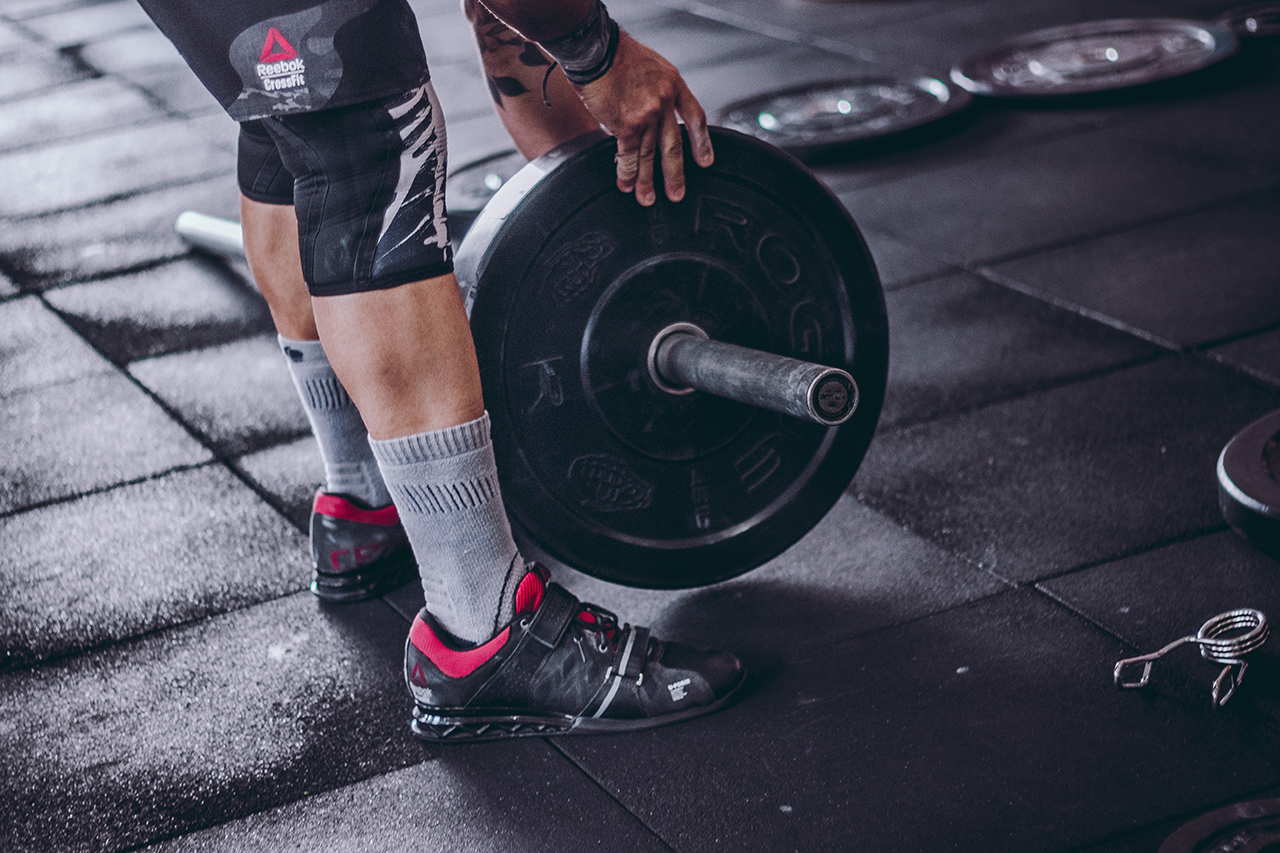 These pieces of fitness equipment are in almost every gym but not a requirement for your home gym. Barbells make a lot of noise, require various plates and take up a lot of space, though they are amazing at building strength. Squat racks are premium for intense strength-building workouts, but they also require significant space and money to install. Thankfully, dumbbells are great for home workouts and some have adjustable intensities. For at-home workouts, I recommend purchasing a pair of dumbbells that provide a light intensity when you are performing accessory movements as lateral shoulder raises. Rubber-coated dumbbells are also a great option as they will save your floor and reduce noise.
Suspension Trainers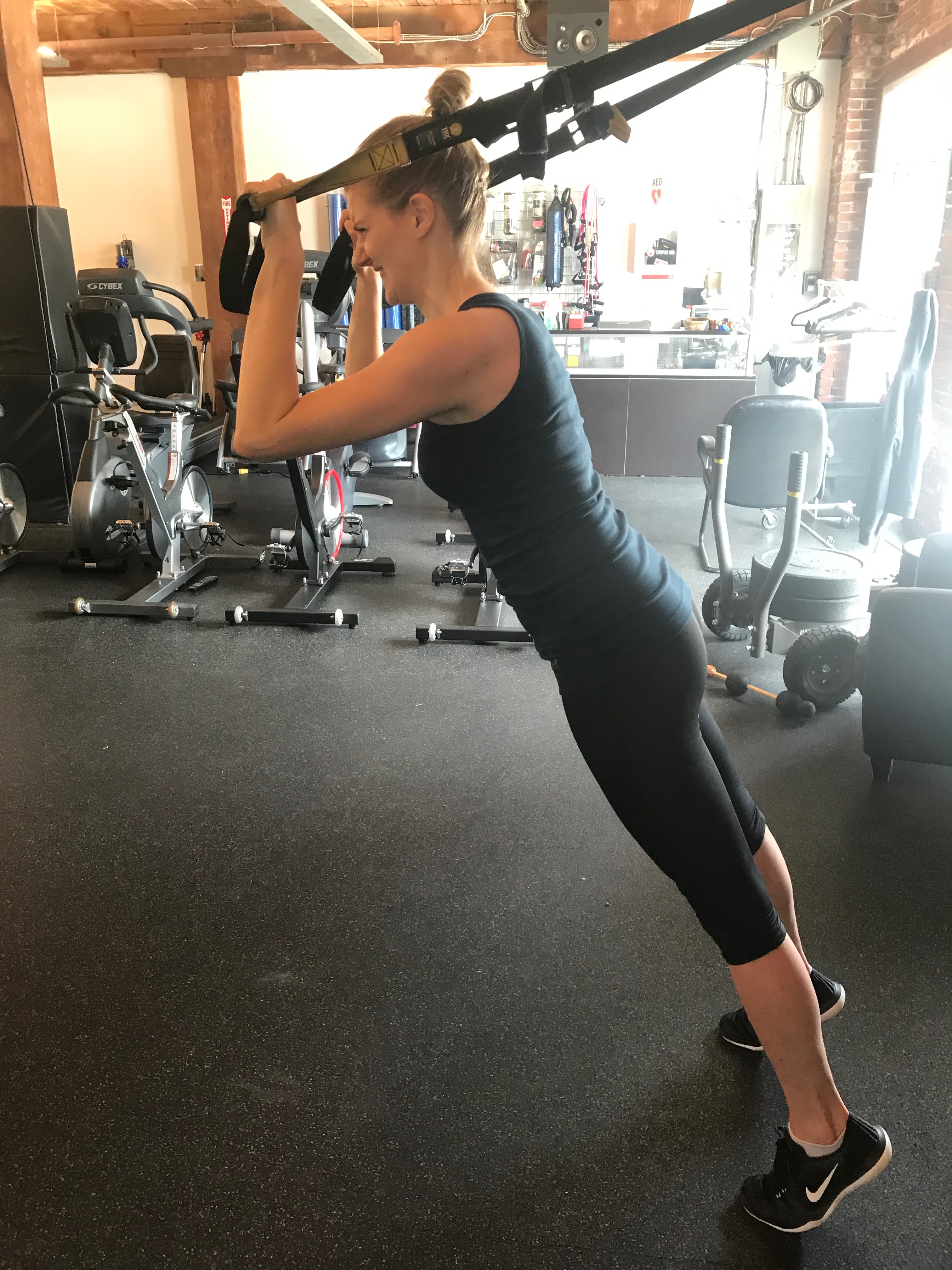 Suspension trainers have an anchor point and two adjustable handle lengths with loops that suspend you in the air; a popular brand is TRX. I highly recommend this type of training as you can perform any primal movement in any plane of motion. It's also great for training one side of your body at a time, allowing you to improve on your weak points while building overall strength and conditioning.   The ability to scale intensity with simple adjustments is awesome – I frequently coach my clients through suspension trainer exercises. The major downside of this equipment is that the required anchor point needs to be 7 – 9 ft high and you need a lot of free space for you to maximize the equipment's potential. Remember you can anchor it to something secure outside as well, which is great for a backyard workout.
Kettlebells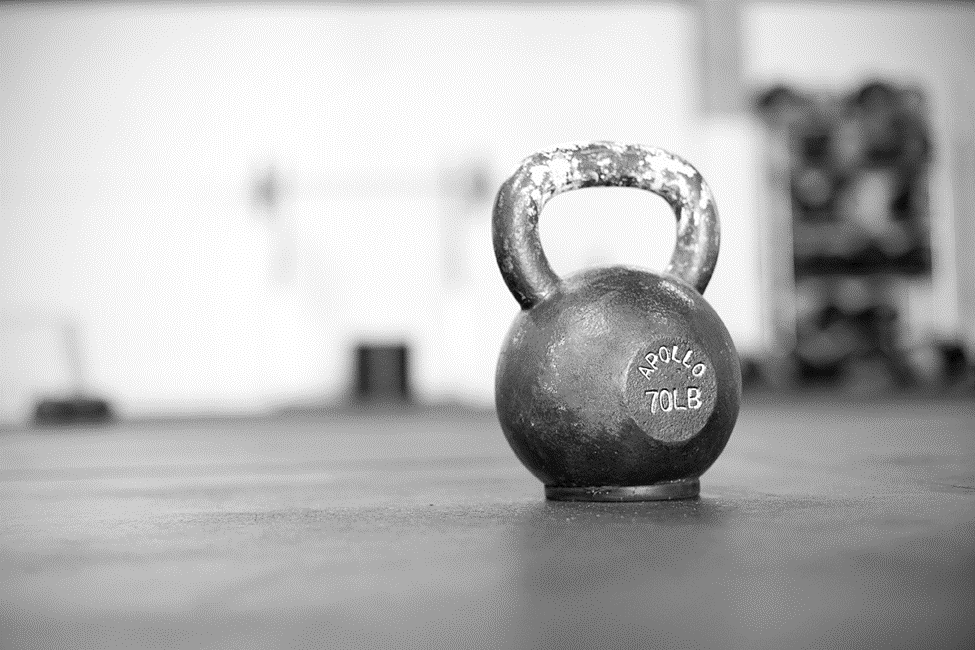 A classic piece of equipment for improving one's strength and conditioning with only a moderate space requirement. You can do an astonishing amount of kettlebell exercises within a 6ft x 6ft space that will quickly challenge you. Kettlebells are quite affordable for the benefit they provide, but you should receive proper coaching before swinging a kettlebell around, especially if you have lower back pain. Get a good stretching and mobility routine down before pushing yourself with this type of equipment, and progress according to your skill.
Electronic Wearable Devices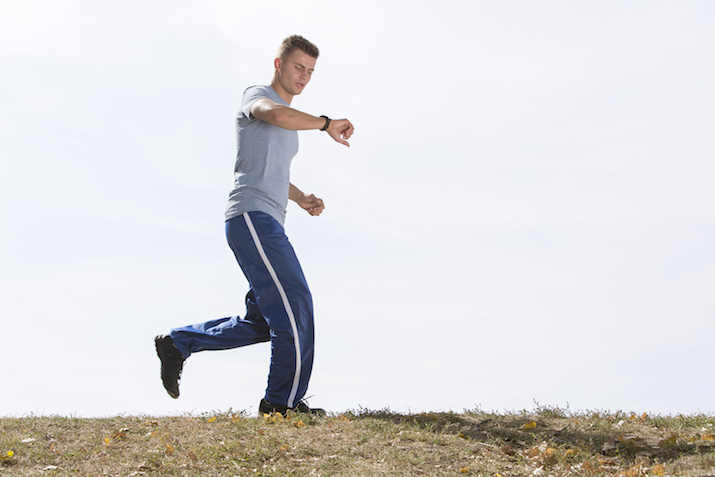 This type of technology integrates seamlessly with Trainerize, the mobile app I offer my online programs through. Recording your fitness stats really allows your trainer to personalize your training program. I encourage people to start their fitness journey by tracking everything they can: workout details, caloric intake, water intake, hours of sleep, and current stresses (physical, mental, lifestyle, etc). Recording your stats two to three times a week is enough for your trainer to get a clear picture of your current state of health. This allows you and your trainer to identify obstacles and find solutions together. Electronic wearable devices also track your progress as you follow your program, which helps you stay motivated and accountable.
Minimal equipment + Consistency = Stronger You
Everything listed above will add value to your workout routine, but remember, you don't need to buy lots of equipment to have an effective home workout. A gym mat, water bottle, and mobility ball might be all you need if you commit to doing a program regularly. Whatever equipment you decide on that's right for you, it's all about the consistency of use.
Many of my online training programs are designed specifically for clients with limited space and equipment. I am happy to consult with you directly to help you find the equipment that will get you moving and motivated!