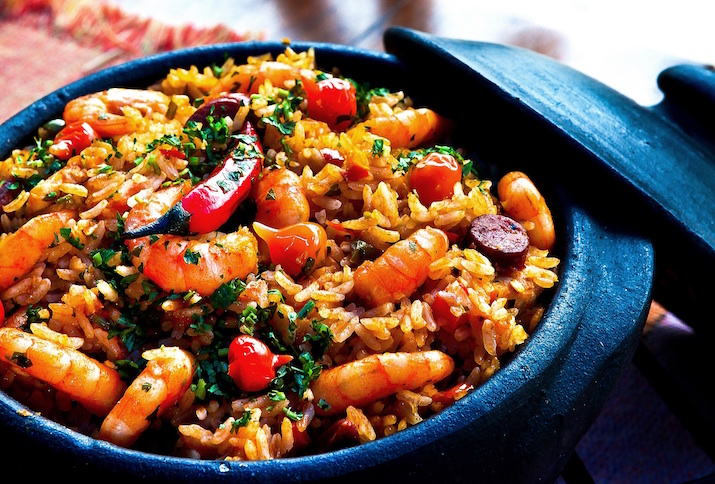 Paella is a perfect dish because you can tailor it to everyone's taste buds – but everybody still eats from the same big platter.
This recipe was a life saver while I was in college and still continue to love it! WHY?! By adding chorizo, different varieties of seafood, vegetables like chopped carrot, zucchini or fennel, edamame or even beef, literally different every time!
Scoop and Go! A Quick and Easy Paella Recipe
Serves: 4
Hands-on time: 20 minutes give or take
Total time: 20 minutes give or take
INGREDIENTS:
2 tbsp olive oil

1 6-oz boneless, skinless chicken breast, cut into ½-inch cubes

1 yellow onion, finely chopped

1 each red and yellow bell pepper, finely chopped

3 cloves garlic, finely sliced

1 tbsp each ground cumin and paprika

1 cup quinoa, rinsed

2½ cups chicken, vegetable or 
fish broth

Juice and zest of 1 lemon

1 tsp red pepper flakes, or to taste

Sea salt and ground black pepper, 
to taste

1 lb peeled and deveined medium 
to large shrimp (fresh or frozen 
and thawed)

1 cup frozen peas
INSTRUCTIONS:
In a large skillet or paella pan on medium-high, heat oil. Add chicken, onion, bell peppers, garlic, cumin and paprika and sauté for 2 to 3 minutes.

Add quinoa, broth, lemon zest and juice, pepper flakes, salt and pepper. Cover and bring to a boil, then reduce heat to a simmer on medium-low and continue to cook, stirring occasionally, until most of the liquid is absorbed and quinoa becomes a little tender (but not soggy), about 7 to 8 minutes. Add a little more stock, if required, to maintain a moist consistency.

Add shrimp and peas and cover until shrimp is cooked and quinoa is al dente, about 5 to 8 minutes. Season with additional salt and pepper.