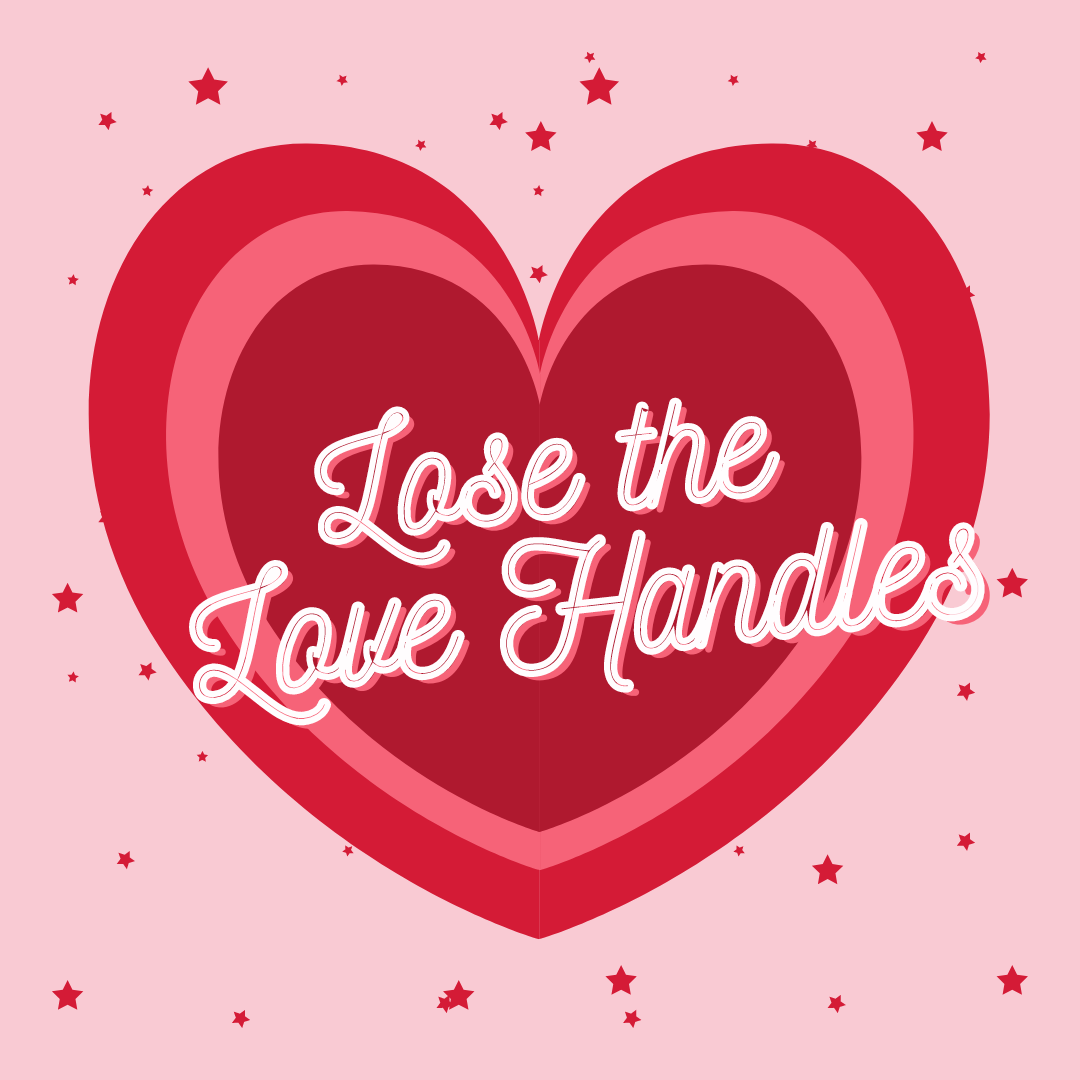 It's February and the month of all things heartwarming! Bring on the teddy bear snuggles, bouquet of red roses, and the month of the most engagements.
Although this commercialized holiday is usually focused around showing love in the form of heart-shaped chocolates (that ultimately lead to squishy waistlines), this article is going to review the most common exercises to combat lower abdominal fat.
As a Personal Trainer and Pilates Instructor, February fitness challenge for my clients focuses on the excess fat that sits on our waistlines.
The folded section around our belly is not called love handles because we love to love them, right!?  It earned the name for being the body part our partner loves to squeeze into while giving affection.
The biological name for this part of our body, lower flap, is not all that heartwarming either.
The common core exercises to target the lower abdominal fat and side obliques that I use with my clients are:
forearm plank hip dips
leg lowers
bicycle crunches
bent knee jackknives
and roll-ups with a wide arm twist
It would be wise to add these moves to your February Fitness challenge and I suggest doing twelve reps of each every single day. In addition to these fitness moves, make sure to keep an eye on what you are putting into your mouth. Try eliminating sugary foods, cut back on drinking alcohol, keep track of your food intake, and eat more protein.
Belly fat is one of the most stubborn areas of weight loss. Staying consistent in your core exercises is key to firming up the waistline. I often have clients ask me how often they can perform core exercises.
The answer is: everyday!
Doing core work is not like running a marathon, where muscles require a rest period. In fact, increasing our core regimen helps to increase strength and endurance in our extremities. Just like the heart is the center of our circulatory system and powers outward through travel agencies of the veins, arteries, and capillaries; the core is the base of our body and it powers outward to our lumbo-pelvic hip complex, legs, and upper body.
So in the spirit of cupid, send some arrows to the "Love Handles."